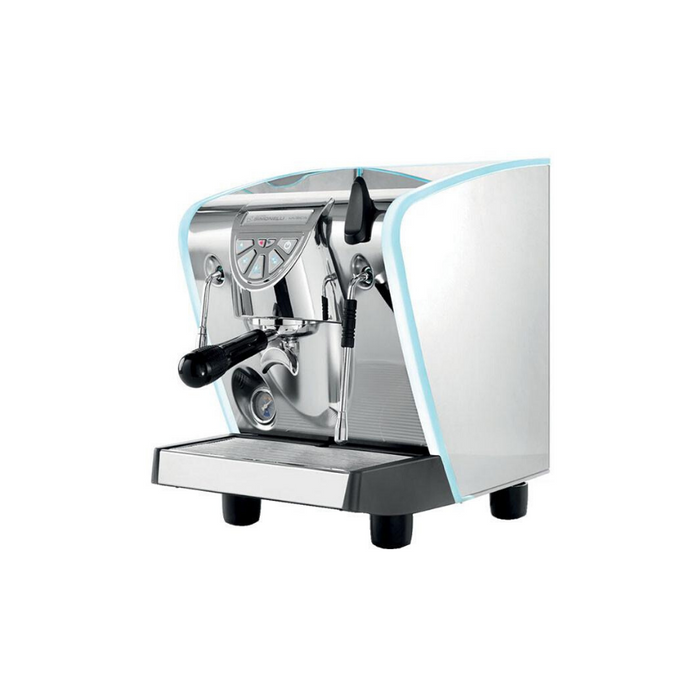 Musica Lux
The Musica Lux espresso machine is Nuova Simonelli's elegant upgrade of the Musica Black. While there's a whole lot to love about its programmable volumetric dosing, pre-infusion system, and high-pressure steam wand - this device takes it even higher by adding a stylish vibe to your home brewing experience! Along with the Musica's high performing yet easy-to-use interface, you get illuminated lights lining its sleek stainless steel body. Count on Musica Lux if you're in the mood to be more extra. When you get yours from Barista Lab, pop those lights on anytime (even when you're not using it) to show off your best coffee machine purchase ever!
Features
Heat exchanger boiler allows you to steam milk and brew espresso simultaneously
Backlit soft touch buttons
Volumetric dosing with 3 dose settings
Thermo compensated group with pre-infusion
Lever action activated steam wand
Hot water nozzle
58 mm commercial portafilter and group
Specifications
Large 3 liter water reservoir
1 liter drip tray
2 liter boiler capacity
1200 watt heating element
ETL approved
Dimensions
Height: 17"
Depth: 16"
Width: 13"
Weight: 45 pounds
Most orders placed by 1 pm PST will arrive within 2 days. Our products are stored all over the USA. We decide where your order is shipped from based on your location so you receive your order as quick as possible. 
Because our products are North American compatible only, we don't ship internationally.
Orders cannot be canceled after they are shipped. They must go through our normal return process.
Contact us with any questions.