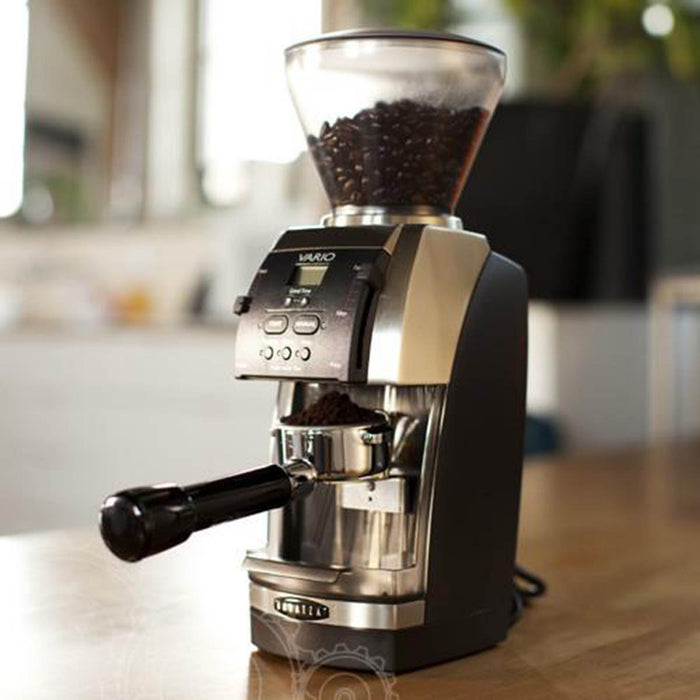 Baratza Vario
In stock and ships same day
The Vario by Baratza is for the barista who wants the accurate grind control of a dedicated espresso grinder, but also wants a grinder that can do double duty for press, drip, or cupping. The digital grind setting on the right lets you quickly switch between broad grinds of espresso, drip and press while the fine setting on the left let you fine tune for espresso. Set the timer up for repeatable grind quantities without having to weigh your beans every time, and use the portaholder to grind directly into your portafilter. The Vario is available to see in our Los Angeles showroom.
Features
Small counter top footprint
Macro and Micro grind adjustment settings
Commercial quality ceramic burrs
Electronic timed dosing within 0.1 seconds
Quiet drive system
In the box: Grinder, Portaholder, Hopper, Hopper Lid, Grounds Bin, Grindz Sample
Specifications
120V
230 distinct grind settings
1.5 grams per second for espresso
2.5 grams per second for press
Dimensions
Width 4.5"
Depth 7.25"
Height 14.5"
Weight 10 pounds
Warranty
1 year manufacturer warranty. Includes replacement if your grinder fails
Most orders placed by 1 pm PST will arrive within 2 days. Our products are stored all over the USA. We decide where your order is shipped from based on your location so you receive your order as quick as possible. 
Because our products are North American compatible only, we don't ship internationally.
Orders cannot be canceled after they are shipped. They must go through our normal return process.
Contact us with any questions.